Hyperion 1300g Linear-Imaging Scanner
Honeywell's Hyperion 1300g linear-imaging barcode scanner features an ideal balance of performance, best-in-class durability and ergonomics to provide years of hassle-free scanning and fast, intuitive reading of all barcodes that Libwin produces, along with all pre-printed barcodes.
Class-Leading Durability: Increases up time and reduces service costs with a reliable design that utilizes no moving parts and full impact resistant bumpers
Comfortable, Ergonomic Design: Ensures operator comfort and productivity with a gun-shaped form factor optimized for intensive hand-held scanning
Easy installation: Using Microsoft © plug and play technology means that there are no additional steps when installing the scanner, simply plug it in, wait for the driver to be automatically detected and installed and start scanning then and there.
Advantage in purchasing through Libwin: In the unlikely event that your scanner breaks, Libwin is fully committed to diagnosing the problem and supplying any spare parts that may be required. Should the fault fall under the 5 year manufacturer's warranty, we will liaise with the manufacturer on your behalf and arrange the necessary to ensure that your scanner is functioning as quickly and conveniently as possible,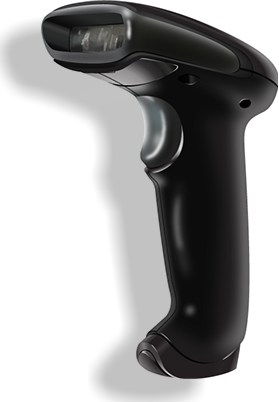 From our sheet labels which fit into any standard laser or inkjet printer though to our custom composite labels which use a specialized label printer, thanks to our over fifteen years of experience within the library automation industry we are able to recommend the very best and most reliable labelling solutions to suit your requirements and budget.
For our clients with a more restrictive budget we are able to offer our tried and tested sheet label solution, sold in a box of 100 sheets, (2400 labels) that fits into any standard laser or inkjet printer. These labels can be used for barcode labels, spine labels and borrower labels and have been used in Libwin implementations for over 15 years.
Sheet Spine Labels printed from Libwin as left to right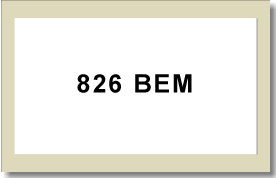 Sheet Spine Labels printed from Libwin as top to bottom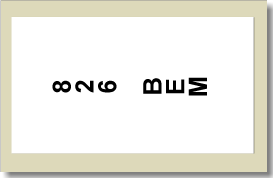 Sheet Media Barcode Labels printed from Libwin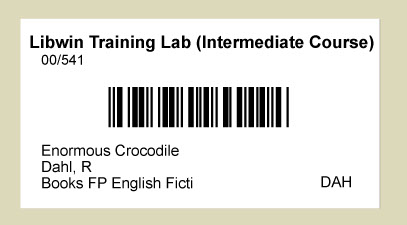 Sheet Borrower Card Labels printed from Libwin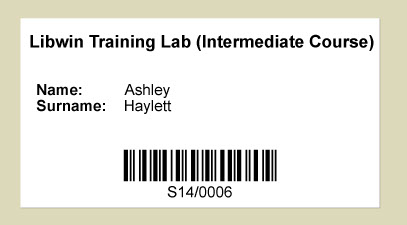 The table below illustrates the layout of each type of sheet label as well as what each is appropriate to be used for.













Thanks to the latest in labelling technology we are now able to provide our clients with composite labelling solutions specifically designed with our over 15 years' experience within the industry to guide us. Our composite labels use thermal transfer technology which means that they won't fade over time. Additionally the labels are made from dairyfilm and not paper which means that they are much more difficult to tear or remove. They are also fully waterproof and are sure to last well beyond the retention period of any item. With two distinct styles of labels to cater to all of our client's needs , along with competitive pricing for composite labels, ribbons as well as barcode printers we can confidently provide top class labelling solutions to suite every challenge and budget.
Below are examples of the two types of composite labels offered by Libwin.

The first label, often used by FET, HE and corporate/special libraries, has a barcode label showing the item's title, author, media type as well as the location within the library. The second part of the label is the spine label.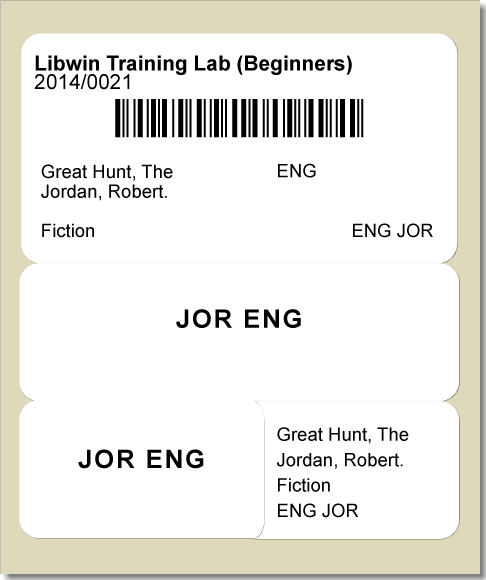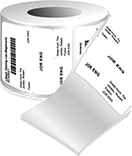 Composite labels are sold in rolls of 1000 labels, the obvious advantage to composite labels on a roll is that you can print any number of labels without having to worry about wastage.
The second label, usually used by school libraries, has the same information on the barcode label, additionally it has two spine labels (to enable larger font usage,whilst still accommodating large call numbers where appropriate ) and an info label.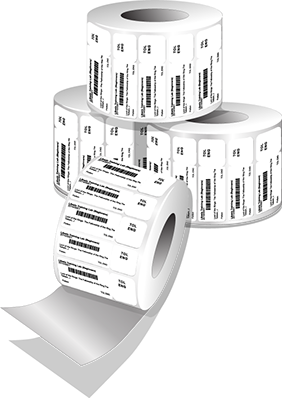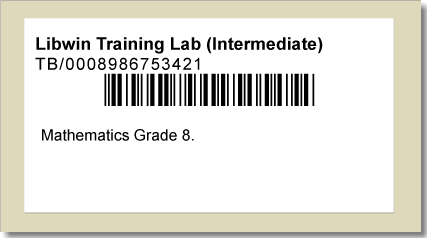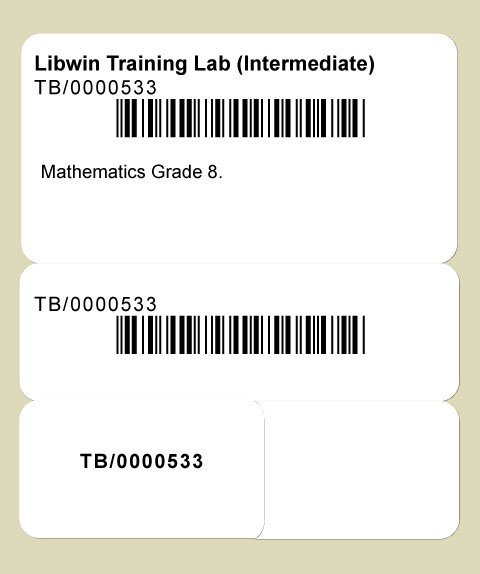 Facilitating your textbook labelling requirements from within Libwin is as easy as ever, with three different label options depending on your budget we are able to provide the most relevant solution to your textbook labelling challenges.
The first label is printed using the standard sheet labels that Libwin clients have trusted and used for years and contains the name of the institute, barcode number and title of the textbook.
The second is printed using the composite label with 4 sections and contains two sets of barcodes, (one with and one without the name of the institute) as well as the barcode number on its' own.
The last label is printed using the other composite label and contains a barcode with the institute name and a barcode number on its' own.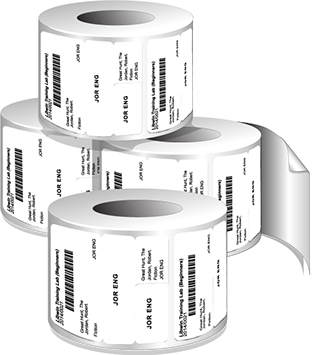 Keeping in mind the complex needs of our clients we have chosen the most pertinent solution in terms of ribbons. Using thermal transfer technology means that your composite labels won't fade over time, regardless of whether the item is left in the sun.
Ribbons last for approximately 650 of our 4 section, specially designed labels, and 1000 of the other and are sure to suite your labelling needs.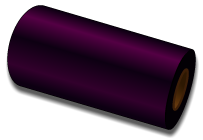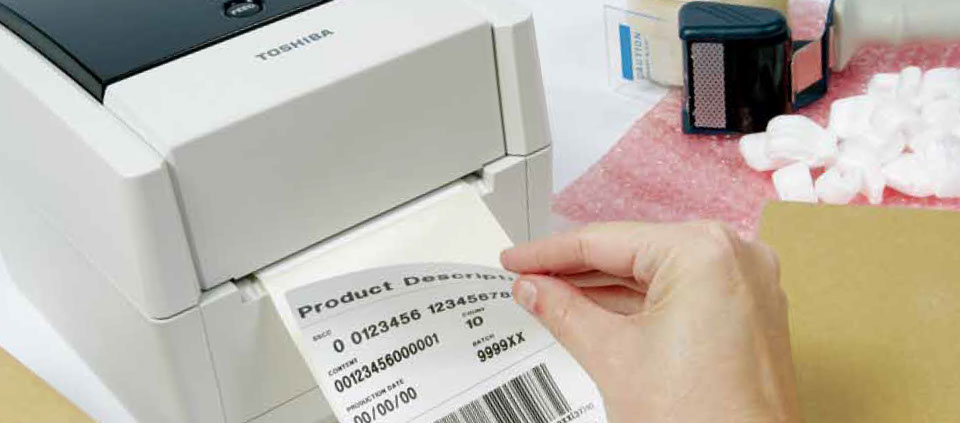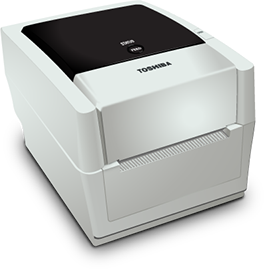 In conjunction with our offering of composite labels and resin ribbons we are proud to offer our clients the most efficient and cost effective barcode printer suitable for use within our multitude of clients.
The Toshiba B-EV4 is a compact, hard-working and reliable desktop label printer that is sure to make labelling simple and easy, in conjunction with our chosen composite labels, resin ribbons, and thermal transfer technology we are confident that we are offering the best solution for our clients.
Chosen by Libwin for it's easy installation, ease of maintenance and cost effectiveness, this printer is sure to solve your labelling headaches at the push of a button.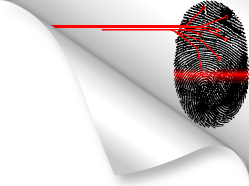 Fingerpint Recognition Module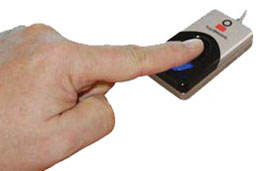 Drawing on over 15 years' worth of experience within the library automation industry, we at Libwin have brought you the latest in fingerprint recognition technology and incorporated it into Libwin. Librarians are now able to replace membership cards with state-of-the art fingerprint recognition technology.
Libwin's authentication system relies largely on passwords and membership cards, now with this enhancement, Libwin can allow for an easier and more efficient means of circulating. Fingerprint recognition benefits you by eliminating frustration when it comes down to security risks, negligence, fraud and borrowed or stolen membership cards. Fingerprint recognition is the most accepted biometric solution for capturing and verifying data. Fingerprint scanners are a popular enhancement choice as it meets up-to-date security needs and provides a satisfactory user experience.
Unlike other options on the market, Libwin's fingerprint recognition module works by directly identifying the borrower by means of their fingerprint - there is no need for a card to be scanned or a pin to be entered in addition to the fingerprint scan. This means that the fingerprint recognition module performs borrower identification rather than borrower authentication/validation - and as such is a true replacement for membership cards.
Although not often disclosed, fingerprint recognition technology is not well suited to young children (up to the middle of primary school) as their fingerprints are still developing. This continued development results in the need for the re-enrollment of their fingerprints at least once a year. For this reason, Libwin does not recommend the purchase and use of the fingerprint recognition module by clients where this restriction will be detrimental to their service delivery.
for a quote or to purchase kindly contact us